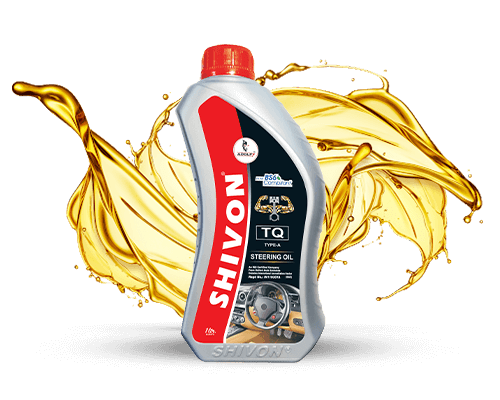 Best Steering Oil Manufacturers in Delhi, India
ADOLF7 Automotive Industries Pvt. Ltd. offers premium quality Steering Oil that is specially formulated for power steering systems. Our Steering Oil is designed to provide maximum protection and smooth operation of your vehicle's power steering system. Our Steering Oil is manufactured using high-quality base oils and advanced additives that ensure excellent performance and extended service life. Our company is counted as one of the dependable Manufacturers and Suppliers of Steering Oil.
The advanced formula helps reduce wear and tear on steering components, prevent leaks, and maintain consistent steering response. Our Steering Oil is suitable for use in a wide range of vehicles, including passenger cars, trucks, and commercial vehicles. It is compatible with most types of power steering systems, including hydraulic and electric systems.
Top Steering Oil Suppliers
At ADOLF7 Automotive Industries Pvt. Ltd., we understand the importance of using high-quality lubricants for your vehicle's power steering system. That is why we have invested in state-of-the-art manufacturing facilities and adhere to strict quality control measures to ensure that our Steering Oil meets or exceeds industry standards. We are also looked upon as one of the preeminent ADOLF7 Steering Oil Exporters in India.
Contact us for Steering Oil
Choose ADOLF7 Automotive Industries Pvt. Ltd. for reliable, long-lasting, and high-performing Steering Oil for your vehicle's power steering system. Contact us today to learn more about our products and services. Also check for Motorcycle Oil.
Make your automotive happy with Steering Oil by ADOLF7 Automotive Industries Private Limited. The company is renowned as one of the prominent Steering Oil Manufacturers in Delhi. The extensive 40+ years of experience of Mr. Anil Sharma has helped the company to earn huge repute and satisfaction of the buyers. The ISO 9001:2015 Certification also ensures for the quality of the products and services offered. Thus the range is broad and encompass solution to meet the needs of different types of automotive.
The state-of-the-art infrastructural facility includes manufacturing unit that is widespread over an area of 5000 sq. ft. The unit is backed with latest machines and facilities that help in attaining the production capacity of 10000 Liters/Day. There also is quality control unit that help in carrying out various quality checks to ensure Steering Oil being a perfect match to the international standards. The packaging unit is also loaded with modern machines that assure leak-proof packaging of the Steering Oil. Moreover, we have marked our presence amidst the top-notch Steering Oil Suppliers and Exporters in Delhi, Madanryting, Pathiriyad, Thanakhamria.
The use of Steering Oil in your automotive not only helps in maintaining the health of automotive, but also ensure long service life. The Steering Oil is known to lubricate all running parts, clean the internals of your engine, minimize fuel consumption and improve working. Moreover, this also serves as a helping hand in the maintenance of the automotive in a much efficient way. The Steering Oil in Delhi is available at an affordable price and delivered within the said timeframe.
We are also praised for delivering Steering Oil within the stipulated time frame and at an affordable price. Buyers with bulk orders are also welcome as there are lucrative deals available. Moreover, if you wish to become Steering Oil distributor in Delhi can also contact us. Our customer centric approach is one major reason for acquiring more than 200+ happy clients, Noida City Centre, Raxaul Bazar, Kushinagar.
What is your Company Profile?
ADOLF7 Automotive Industries Private Limited was started in 2017. Mr. Anil Sharma laid the foundation stone for this company. His experience and specialization take the company to new heights in a short span of time. We are the company with ISO 9001:2015 Certified Company by Emirates International Accreditation Center member of IAF. We offer top-quality products that help us to attain maximum client satisfaction.
Why Is Adolf7 the best Steering Oil Manufacturers In India?
ADOLF7 Automotive Industries Private Limited is one of the eminent Engine Oil Manufacturers In Gujarat, Delhi that has a manufacturing unit where we design every product with high precision and use the latest technology to bring nothing but the best at the end of the process. We offer top-notch quality; industrial lubricants, greases, engine oils, and more. Our team of experts is our backbone and works beyond the limits to attain client satisfaction.
What Are The Different Products You Have In the Catalog?
We have various products that help to maintain your vehicles. They are:
Engine Oil

Automotive Engine Oil

Four Stroke Engine Oil

Tractor Engine Oil

Automotive Polish

Lubricant

Coolant

Automotive Grease

Steering Oil

Gear Oil

Bike Shiner

Car Shiner
Why Is It Important To Choose Right Steering Oil For Automobile?
If you use the random Steering Oil for your automobile, it is not adequate for the vehicle. So choosing the one is necessary to keep your vehicle well-manner. That's why it is suggested to you to choose the ideal one.
What Are The Special Features Of Your Steering Oil?
Our Steering Oil has a feature that helps to keep your vehicle in good condition. We are a quality-centric company that designs every product using cut-edge tools that boost the performance of your automobile and give you unexceptional positive results.